The Japan Visa system for Pakistan is a challenging one. There are so many visa types and rules that need to be followed to get the right type of visa. This blog post looks at some important details regarding the process and requirements of getting a Japan Visa for Pakistanis. However, there are different types of japan visas mainly issued to Pakistani nationals which are as follows:
Work Visa
High Skilled Professional Visa
Student Visa
Tourist Visa
Let's discuss one by one the following visa types which are available for Pakistani Nationals:
Japan Work Visa:
Japan Work Visa for Pakistan is something that you might be interested in if you are looking to work or study abroad. Japan has many opportunities for people of all different backgrounds and skillsets. So it' a great place to look into if you're considering an international move. The process can be long and complicated, but this article will help, guide you through the steps necessary to obtain your visa. It may require some time and effort on your part, but it'll be worth it when you finally arrive. There are also several other articles on our website that may interest you as well!
What is Japan Work Visa?
The Japan Work visa is a type of visa granted to foreign nationals who want to work in Japan. This type of visa is issued by the Japanese government and is generally used for skilled professionals, unskilled workers, students, interns etc.
How to Get a Japanese Work Visa:
The following are the steps that need to be followed to get a Japan Work visa:
Step 1: Prepare yourself for the application process before you go for it! Several documents are required by the officials. It is always better if you have them ready before starting your work visa application process so that you can present them when asked.
Step 2: Find a job in Japan or contact your local embassy to know if there are any opportunities for you to gain work experience in Japan. Make sure the work is offered by an approved employer and meets all the requirements of the immigration bureau. Do not forget to get a written job offer from the employer with the necessary work visa information.
Step 3: Make sure that your job is reflected in your resume so that you will have a stronger case when applying for it.
Step 4: Ensure that you can financially support yourself throughout the visa process and stay in Japan. You will need to provide the necessary documents as proof.
Step 5: If everything is fine, contact the immigration office and make an appointment for a visa interview. You'll also need to bring your passport (with at least 1 empty page), work permit, job offer letter, resume, and other necessary documentation along with you to this meeting.
Step 6: If the visa is granted, you need to enter Japan within a specified time frame and work for that company only. If the visa is not granted, you may appeal by applying again after changing some of your application details. However, it's best to be fully prepared before going for such an expensive and time-consuming visa process.
Documents Required for Japan Work Visa:
If you are interested to get the Japan work visa then you must be follow the procedure for getting Japan work visa. To apply for a work visa you will need to submit the following documents at your consulate:
Application form.
Passport sized photo.
Nadra CNIC
Valid Passport
Educational Certifcates.
Your resume with personal details and qualifications required by Japanese rules.
Proof of funds from which you can sustain yourself during your stay, also proof that the employer has enough income to cover your salary.
Health test: Before the visa is processed, you will need to go for a medical exam to check your health conditions. This must be conducted by an approved clinic listed on the Japanese Embassy website.
Work offer letter: Once you have submitted all documentation, your employer will receive an offer letter from his firm to send to the embassy. Along with this your application fee needs to be paid before going for interview. After successful interview, a visa notification letter will be issued and sent back to your employer who can then forward it along with other documents to you so that you can return home and process Japan Visa.
Interview: Once you have submitted all your documents. You will be called in for an interview. At this point they will review all the documents then give a checklist to see if you meet all requirements or not. You should also be ready to answer any questions regarding why you wish to go Japan and what profession you are going to be practicing.
Applying for work visa in Japan:
It is important to note that you can only apply for work visa after being employed. The Work Visa should be applied within the 90 days of your arrival in Japan. The Visa issued should be valid for six months or less depending on your job type. You are requested to have multiple-entry visas if you need to leave Japan once every few months and visit other countries while working in Japan.
Pros and Cons of Working in Japan:
There are various benefits and drawbacks to working in Japan. However, with careful research and planning, you can work out if moving to Japan can benefit your career or not.
Pros:
Salaries: Japanese salaries are usually higher than most countries. If you're looking for a career change or simply want to boost your salary, this is a good place to start.
Japanese work culture: Japan puts a lot of emphasis on hard work and dedication, which means that you'll be rewarded for your efforts. It's also not very common to change jobs once you have been employed somewhere, so if you're committed it's easier to gain long-term employment.
Opportunities: This country provides a lot of opportunities and advancement in your career. Japanese schools are also known for their excellence, so if you're looking to move abroad with your family it's a good choice.
Cons:
Remote locations: If you want to avoid living in a small town you'll have to work hard to get a place in a big city. However, these jobs are competitive and difficult to get.
Language: Japanese is one of the most difficult languages to learn, which can become a major barrier for many people. Some forms of employment may also require fluency in Japanese so it's important to consider this before you start your visa process.
Visa Status and Conditions after Getting a Job in Japan:
After you have been employed by a company, the place of stay can be changed from 'visitor' to 'employee,' which provides permission to work. If you qualify for additional statuses then you may also be able to apply for your spouse and children. Spouses of employees are entitled to a ' dependent visa' so they can accompany you in Japan without any work restrictions.
Language barriers: The language barrier is the biggest concern for professionals who want to move abroad with their families.
High cost: The visa and other expenses can be costly in Japan, and they may not all be covered by your employer.
Passport Expiration: Without a permanent residence designation you cannot renew your passport before it expires. If this happens, you would need to leave the country and reapply for a new one. You will then have to go through the entire work abroad process again.
What are the Requirements to Get a Working Visa in Japan?
Following are some of the necessary requirements to get a working visa in Japan:
You must be eligible to work in Japan before you can apply for a working visa.

Your job or profession must be fully licensed and legalized by the Japanese government.

If your occupation is not on the list of professions that are allowed to work in Japan, you can request special permission for your visa.

If you are from a country that has a connection agreement with Japan, your employer will need to file an immigration application before you arrive in this country. Your employer must secure business licensing and submit the necessary documents by filing an official application. As your employer applies with immigration, you will have to wait for the final decision to find out if you are approved or not. If approved, you can move to Japan and work under the status of residence that was assigned when your visa got approved.
Working Conditions in Japan:
Japan is a developed country and provides the best working condition to the foreigners. Some of them are:
Working hours: During the first six months of employment, you cannot work more than 45 hours per week.
Salary: You need to receive your salary in Japanese yen, and it must be paid into your bank account in Japan every month. Otherwise, if your salary is sent directly to another bank account, your visa will likely be canceled.
Holidays: There are eight national holidays in Japan. Employees receive paid time off for these days, which is based on how long they have been employed. After working for six months, you earn 11 paid days off per year during national holidays.
Other employment rights: If your employer breaks the law, you can file a complaint and seek legal retribution. However, it's important to understand that labor disputes can take years before they are resolved.
High immigration rate: As many Japanese people move abroad, there is also an increase immigration rate in Japan. Many foreigners move to Japan every year and the number of illegal immigrants is also increasing because they find loopholes in immigration laws.
Work life balance: Employees are expected to work long hours, but they also receive competitive benefits like free transportation, lodging, food etc.
Conclusion: If you are considering working in Japan, it is important to know what the requirements for obtaining a work visa are. The documents required vary depending on your country of citizenship and will also depend on which type of visa or residence permit you would like to apply for. Keep in mind that there are pros and cons associated with living abroad while holding an employment status. Some people may enjoy having more control over their career while others might not want the hassle of adjusting to new cultures, customs, language, or food habits. It's worth doing some research to find out if this option is right for your specific situation before making any life changing decisions!
Japan High Skilled Professional Visa:
Japan High Skilled Work Visa is a new visa program for foreigners who want to work in Japan. Japan high skilled professional visa HSP and HSFP are two different visas. HSP or HSFP is a new visa for highly skilled professional workers, one who is talented, advanced professional, and specialized skills set in certain professional areas. The good thing about such a visa is that you don't need any job offer before. You can go to Japan for 3 years and can extend your visa, you have the freedom to work. This is a big advantage of HSP and HSFP in comparison with other visas.
HSP and HSFP visa benefits employees who have skills and levels of knowledge that cannot be attained by other workers in Japan. These foreign nationals will become valuable assets to their companies and other organizations in Japan because they bring unique, specialized skill sets and experience to the table.
Foreign talent is a valuable resource for Japan's future growth and development. This new visa system is designed to attract exceptional foreigners who can contribute greatly to the country's economy and society while minimizing any potential impact on unemployment or economic conditions within Japan.
Japan High-skilled professional worker visa HSP and HSPF is also applicable for professionals who can prove their skills to show they have advanced knowledge or higher-level skills that cannot be attained by other workers in Japan. If you want to apply under this category, you have to show advanced expertise in the areas of business administration, law, engineering medical treatment, or any other profession in which you have an experties.
Duration: This visa is valid for a maximum duration of five years.
Processing time: The processing time for this type of visa is six months from the day your file was received at the embassy or consulate-general office.
Language requirements: You must be able to good in language.
Other Requirements:
Your resume (CV).

Work records (from previous jobs).

Employment agreement (if you are currently employed) along with your passport.

Certificate of criminal record issued by the authority in the country where it was issued no more than 90 days before applying for this visa.

You may need health insurance depending on the length of stay expected.
For further information, you can check and read all the details about such visas on the official website.
Student Visa: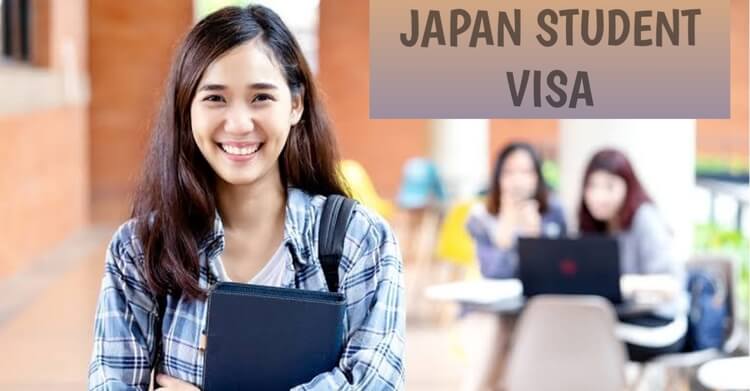 Japan is one of the topmost industrialized and developed countries in the world. The education system of Japan has also been ranked best in the world, and if we take a glance at some recent studies we may find it to be in number one position. But this doesn't come as a surprise since the market value of higher education here is far more than any other country or region around the world. For students like you who seek quality educational attainment from Japan, rest assured that many opportunities are awaiting you with scholarship options available for international students who wish to study in Japan. With rising competition among universities and their programs, they strive to provide high-quality education at affordable costs to attract a maximum number of foreign students every year.
Even if you don't have sponsorship from your family or anyone else, still there are many opportunities for pursuing your dreams of studying overseas. However, the process of getting a Japan Student Visa is not an easy task and you need to follow certain rules and regulations as well as complete several formalities before you can land in this country on a student visa.
The government of Japan is also very particular when it comes to educational opportunities for foreign students in the country. It's the same case with studying in Japan as with many other countries, you will need a student visa to reside, live and study in Japan. As per Embassy of Japan information on their official website, international students can apply for a student visa when they have been accepted by a recognized academic school or institute in Japan and seek admission into any undergraduate or postgraduate program. Below are some general requirements & procedures for obtaining a Japan visa for Pakistani students:
Applying for Japan Student Visa:
Pakistani students applying for Japan visa follow the same application process as that of all other international students. Before applying for Japan visa, you need to take into consideration few things which are listed below:
The first step is to get accepted by a recognized school or institute in Japan
The next step is to have enough funds available to cover expenses during your study time in Japan.
Then you need complete medical examinations and vaccination reports if needed after consulting with the health advisor at the embassy.
After this, you must provide a police clearance certificate if living more than 12 months continuously in another country before traveling to Japan.
The final step is applying for a visa at the Japanese embassy along with other required documents.
Photocopies of passports.
Payment receipt for the visa fee (Non-refundable and non-adjustable).
You also need health insurance.
Students applying for a student visa need to note that the Japanese embassy takes around 5 working days to process interview appointments and visa applications. Visa processing time is not guaranteed and can take up to 4 weeks before the interview date or after the interview date as well. The embassy cannot provide an estimated visa processing time, but they can provide a date when you should contact back for further updates.
Conclusion: The process to get a student visa for Japan is not difficult, but it does require some patience. We hope this piece of information has helped you understand the process of acquiring a student visa to study in Japan. If you are interested in moving your education abroad, we encourage you to explore all options and find out which one is best for you. Let us know if there's anything else that we can help with!
Note: You can get all the latest information about Japan Student visas from the official website and the Japanese embassy in Islamabad.
Japan Tourist/Visit Visa:
Traveling to Japan as a tourist is something almost everybody would like to do, as the country has much to offer. Particularly in the metropolitan area of the country, Tokyo and Osaka boast much in terms of modern architecture and entertainment. For those seeking culture and history, there's Nara with its many temples and shrines, Kobe with its lovely views of Japan's most famous port, and Kyoto , the former capital and home to thousands of amazing places.
Japan tourist visa is the best option. Japan tourist or japan visitor visa is a document issued by the Embassy of Japan in Islamabad, Pakistan which grants Pakistani nationals permission to enter Japan for purposes of tourism.
Japan tourist visa holders may stay in Japan for up to 90 days or 3 months. This type of visa is most common among business people, persons on whom Pakistani authorities wish to gather information, and students who wish to study in Japan at their own expense.
Procedure for Japan tourist visa:
The procedure of Japan tourist visa for Pakistanis is quite simple. The first step would be to obtain an application form from the Embassy of Japan in Islamabad. This can either be obtained by personally visiting the Embassy or through the post. Application forms are available on the official website of the embassy, so one doesn't have to fall prey to touts offering fake applications.
Once you have filled up your information into this application form and attached all necessary documents along with it, you are required to send it through courier or personally submit it.
Required Documents for Japan Tourist Visa:
Following documents are required to be attached with the application form:
Copies of applicant's valid passport.
A copy of your return ticket.
In case you don't have a return ticket, proof of sufficient funds for your stay in Japan and a travel plan must be provided. If you're making this trip on the invitation of somebody, it must be submitted.
Copy of the invitation letter from Japan.
Photo of the traveler.
Completed application form with signature.
Please note that incomplete applications cannot be processed so double check before sending them to the embassy. Also, come prepared with necessary information about your trip as they will ask you questions about it during an interview session.
Visa Fee for Japan Tourist visa:
All applicants are required to pay a nonrefundable fee of Rs 5100 /- through Money Order at the time of submission of their paperwork. Submission may either be done in person or through mail/courier service depending on preference and availability at one's disposal.
Conclusion: Japan Tourist visa is the best option for all who want to visit Japan. Pakistan Embassies are hardworking and honest so they will provide you a chance of getting Japan tourist or visitor visa. I hope you will get all the necessary information. For further info you can visit the official website.
I hope this article regarding japan visas will be great helpful for you and clear your mind. For more information you can visit the official website of japan.
Note: we are not the visa providers. We only shares the best information with our readers. If you need any further information kindly comment below.